Call or Email for Price and Availabilty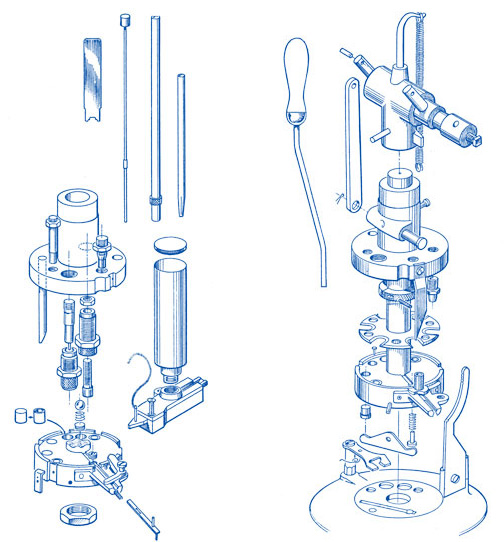 1 Universal Reloader (Price is higher for 9mm & 30 Carbine)
2 Extra Toolhead w/shell plate
3 Set of Dies w/shell plate
11 Aluminum Base
12* Steel Floor Base (Progressive)
12U* Steel Floor Base (Universal)
13 Shell Plate
14 Shell Plate Thrust Nut
15C Carbide Resizing Die (Complete Ass'y.)Carbide Resizing Die (Body only)
15C Carbide Resizing Die (Complete 9mm)
15C Carbide Resizing Die (Complete 30Car)
16 Shell Expander Plug
17 Shell Expander Plug Nut
18 Roll Crimp Die (Complete Ass'y.) Roll Crimp Die (Body only)
18T Taper Crimp Die (Complete)
19 Die Nut (11/16-24)
19R Die Nut (7/8-14)
20 Bullet Seater (Small)
20U Bullet Seater (Large)
21C Decapping Assembly
21P Decapping Pins (pkg. of 6)
22 Primer Slide (Lg. or Sm)
23 Primer Slide Spring
24 Primer Punch (Lg. or Sm.)
25 Primer Punch Spring
26 Primer Punch Bushing (Lg. or Sm.)
27A Powder Slide 00
27B Powder Slide 1/2"
27C Powder Slide 5/8"
28 Powder Slide Spring
29 Powder Slide Housing/Top (specify size)
30 Powder Slide Cam
31 Powder Measure Spout
32 Powder Magazine - Complete
32A Powder Magazine - Plastic only
34 Primer Magazine Tube (Lg. or Sm.)
35 Primer Follower Rod
36 Primer Magazine Socket
37 Primer Pick-up Tube (Lg. or Sm.)
38 Shell Plate Dowel Pin
39U Safety Cam (Universal)
40 Safety Cam Standard
41 Safety Cam Spring
42 Safety Cam Screw
43 Safety Cam Stop Pin
44 Primer Punch Push Rod
45 Primer Punch Rocker Arm
46 Rocker Arm Tappet
47 Rocker Arm Screw
48 Primer Slide Angle Lever
49 Angle Lever Cam (Progressive)
49U Angle Lever Cam (Universal)
50 Angle Lever Screw
51 Primer Punch Bushing Screwdriver
52 Steel Ball
53 Steel Ball Spring
54 Steel Ball Plug
55 Tool Head without dies (11/16-24)
55A Tool Head without dies (7/8-14)
56 Tool Head Spring
57 Spring Anchor
58* Column Shaft
60* Crank Shaft Bearing
61 Taper Pin
62* Crank Shaft Assembly
63 Link, each
64* Link Pin (Upper)
65 Link Pin (Lower)
66 Crank Shaft Handle
67U Shell Floor Base Bushing
68 Shell Floor Base Plug (Progressive)
68U Shell Floor Base Plug (Universal)
69 Bullet Seater Nut (Sm.)
69U Bullet Seater Nut (Lg.)
70 Powder Slide Housing Cover
71 Powder Slide Housing Base (size)
72 Powder Slide Housing Screw
73 Tool Head Spring Anchor Screw
74 Thrust Nut Clamping Screw
76 Powder Slide Cam Screw
77 Powder Magazine Cap
78 Primer Punch Push Rod Nut
79U Shell Base Locating Strap w/screws
80 Column Shaft Nut
81 Angle Lever Cam Clamping Screw
82 Primer Magazine Socket Screw
83 Allen Wrench for Decapping Pin
84 Allen Screw for Decapping Pin
85 Powder Slide Cam Standard
86 Powder Slide Cam Standard Screw
88 Adjustable Powder Slide 00
MAINTENANCE/REBUILD COSTS
Star Reloading Tool (labor only)
Includes:
Disassemble, clean, assemble, lube and adjust (Worn parts are replaced at current price)

Case Feeder (labor only)
Includes:
Disassemble, clean, assemble, lube and adjust
Modify for "Auto Eject"
Drill/Tap Tool Head (11/16-24 @ taper)
Drill/Tap Tool Head (7/8-14)
Star Machine Works
PO Box 455
Bloomsbury, New Jersey 08804
StarMachineWorks@ptd.net
(908) 750-6312

PRICES SUBJECT TO CHANGE WITHOUT NOTICE
ALWAYS USE PART NUMBER AND FULL DESCRIPTION

All orders will be shipped at price in effect at time of shipment.
Terms: Payment in full (including shipping charges) prior to shipment.
Payment method: Check, cash or money order. (Credit cards not accepted at this time)
Shipment of orders paid by personal check will be held for up to ten (7) working days.
Written orders are recommended.
New Jersey residents include current sales tax rate.
Minimum shipping charge is $5.00.
* Denotes parts that should be assembled at our
factory and are not returnable for credit or refund.
Bullet seaters - specify caliber, bullet mold number or brand name and number. For best results send sample bullets.
Powder slides - specify whether for "00", "1/2" or "5/8" housing and type and amount of powder. "0" size powder slides are no longer available.
Decapping pin assembly - specify brand name of die and caliber.
Reconditioned Universal Reloaders Available (Call for availability/quote)

The Star Lubricator and Resizer is available through:
Magma Engineering Company
480.987.9704